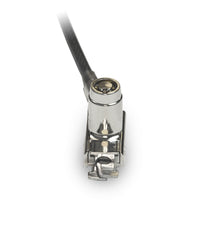 The Noble Locks NS04T Compact Scissor Lock is the perfect security companion for your Lenovo laptop. This state of the art barrel key lock for Lenovo laptops with a scissor security slot secures and protects your laptop and has many additional benefits.

The rotating lock head allows for this product to have 360 degree of freedom making it easier to lock and unlock. This feature also allows the lock to rotate freely while still secured within the lock slot to help prevent theft. The Noble Lock is tested and approved.

This locking system also includes the patented Noble peripheral cable trap allowing you to secure your power cables or other peripheral devices.

The NS04T Noble Compact Scissor Lock comes with the lock attached to a 6 ft/1.82m reinforced steel cable, 2 keys, peripheral cable trap and a storage pouch. Noble offers a Two-year limited warranty on this product.

The NS04T is designed Lenovo laptops featuring a scissor lock slot. Check Noblelocks.com for compatibility for Lenovo laptops and notebooks.
NOBLE LOCK FIT PROMISE
Noble Locks guarantees that the lock you buy from noblelocks.com will fit your laptop or desktop.
If for some reason it does not fit, please fill out this form with your order number and will replace it with the lock that fits.
NOBLE SCISSOR/CLEAT FEATURES
The Ultimate Barrel Key System 
Noble Locks' 7mm barrel key system uses our patented inverted lock cylinder allows the lock to be narrower without sacrificing strength or security. Our diverse offerings enable you to secure all your devices with a Noble Wedge, T-bar, or scissor-style lock slot, or with one of our custom desktop solutions.
4 mm Hardy Stell Cable with Anchor 
Braided intertwined steel cables create a cut resistant theft determinant defense. This 6' ft cable also has a loop to allow you additional flexibility to adopt and reinforce your connection. The 4 mm thick cable is easy to carry and allows for mobility
360 Degrees Head Rotation
Not only does the cable spin at every angle allow your laptop to lay flat at all times, the unique T-Bar lock head also rotates adding extra protection if someone tries to snap your lock.
Noble Peripheral Trap
Secure your charger and other accessories with our patented peripheral trap. Run cable of your USB Type C, USB & HDMI accessories through the trap before inserting lock inot slot and create a secure environment for all of your technology.