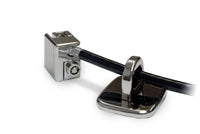 Protect your OptiPlex desktop and the onboard sensitive data from theft with Noble's innovative desktop lock. The NGDT7 OptiPlex Desktop Lock is designed to support all OptiPlex form factors with a lock tab on the rear panel of the system. The secure lock-tab prevents the system from not only being carried away, but also from being opened protecting internal components. 

This locking system is also designed with Noble's patented peripheral trap. Just run the cable of your accessories through the peripheral trap before inserting the lock and secure most any accessory. 

The NGDT7 includes an industry leading 8mm cable featuring PVC Coated Braided Steel which is 4x stronger than the typical laptop security solution. 

The NGDT7 OptiPlex Desktop Lock comes with the lock, a 6' reinforced steel cable, 2 keys and integrated peripheral cable trap. Noble offers a Two-year limited warranty on this product.
NOBLE LOCK FIT PROMISE
Noble Locks guarantees that the lock you buy from noblelocks.com will fit your laptop or desktop.
If for some reason it does not fit, please fill out this form with your order number and will replace it with the lock that fits.
NOBLE DESKTOP OPTIPLEX FEATURES
Barrel Key System
Secure your lock-tab equipped OptiPlex system with Noble's custom-designed desktop lock. Lock with cable prevents the opening of the cover and system removal.
Peripheral Cable Trap
Secure your charger and accessories with our patented peripheral trap.  Run the cable of your accessories through the trap before inserting lock into slot.
8 mm Steel Cable with Loop
Braided intertwined steel cable creates a cut resistant theft deterrent defense. this 6 foot long, 8 mm thick cable is designed to give maximum security for your desktop.
.